Charles R. Berry
Arizona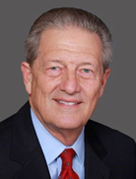 Clark Hill PLC
14850 N. Scottsdale Rd
Suite 500
Scottsdale, AZ 85254
Tel: (480) 684-1302

Email:

cberry@clarkhill.com
Web:

www.clarkhill.com
Charles R. Berry is Senior Counsel in Clark Hill's Corporate Practice Group and represents corporations, limited liability companies, partnerships, other business entities, and individuals in a wide spectrum of transactions, focusing primarily on capital formation and business management.
Charlie prepared the first "plain English" initial public offering of securities registered with the SEC and has extensive experience in securities regulation, public offerings, business mergers, acquisitions and sales, private placements, and compliance with the periodic reporting requirements of the Securities Exchange Act of 1934.
In addition to debt and equity financings, Charlie has represented securities dealers, their registered representatives, and registered investment advisers in connection with regulatory compliance matters and investigations. He has participated in many Financial Industry Regulatory Authority (FINRA) arbitrations, representing claimants and respondents, as well as serving as an arbitrator and conducting arbitrator training.
Charlie is a past chair of the Business Law Section and the Securities Regulation Section of the State Bar of Arizona. He has also served as a faculty member for the State Bar's Course on Professionalism.
A founder of the former Scottsdale, Arizona law firm of Titus, Brueckner & Berry, P.C., Charlie also has experience serving as director and practice chair at other Arizona law firms. He has participated in many continuing legal education seminars and panels for organizations, including the State Bar of Arizona and FINRA.
Education
J.D., cum laude, Northwestern University Pritzker School of Law, Chicago, Illinois
B.A., Northwestern University, Evanston, Illinois
Memberships:
President (2019-2020), Scottsdale Bar Association
Awards/Achievements:
Selected for inclusion in AZBusiness Leaders 2020 top five mergers and acquisition attorneys
At Clark Hill we have earned a reputation as a firm that excels in anticipating and responding to changing market conditions. The Clark Hill Corporate Law practice group prides itself on getting transactions to the finish line by guiding clients past barriers swiftly and helping them adapt to regulatory change. It starts with aligning skills to each client's style, needs and circumstances then moving onward to champion proactive strategies that advance our clients' business objectives. For the Clark Hill Corporate Law practice group, it is all about full service efficiency and effectiveness in providing creative strategic solutions to legal issues. Our business lawyers regularly draw upon the knowledge of other practice groups throughout the firm to provide complete strategies and solutions.
With lawyers residing in many of the country's major metropolitan areas, we offer a compelling combination of corporate experience, exceptional service, and value to clients across a wide range of industries. Our corporate and transactional attorneys represent public and private companies, non-profit organizations, financial institutions, private equity funds, government entities, investors and emerging companies in domestic, cross-border, and global corporate matters.
We advise clients on everything from day-to-day compliance and reporting requirements to complex, high-stakes transactions and long-term business objectives. Our team also organizes joint ventures, general and limited partnerships, limited liability companies and other entity forms, as well as regular and non-profit corporations, for clients of all sizes.
We regularly advise boards of directors and board committees on a wide variety of governance and disclosure issues, including compliance with the Sarbanes-Oxley Act of 2002. Clark Hill lawyers have also counseled several clients in connection with voluntary disclosures under a variety of federal and state statutes.
Clark Hill is a multidisciplinary, international law firm that draws on our attorneys' comprehensive industry and policy knowledge and a global network of industry advisors and subject-matter experts to provide innovative legal solutions and client-service excellence worldwide. Our work is guided by our deeply-held shared values, including practicality, entrepreneurship, mutual respect, diversity, ethical behavior and a commitment to client and community service.
One of the largest firms in the United States — with more than 650 attorneys and professionals in 25 offices, spanning the United States as well as Dublin and Mexico City, we are a committed partner to a diverse range of leading brands, forward-thinking businesses, public entities, nonprofit organizations and individuals. Our significant presence in Washington, DC, and our deep government relations and public affairs experience at every level help ensure that our clients' voices are heard in the development of federal and state regulatory policy and legislation.
Our investment in new service lines and programs — such as HR/Advantage, Information Governance 360, Reputation Governance 360 and Conrad Consulting  — further reinforces our ability to develop and deliver coordinated legal, business, and political strategies that achieve business success.
Clark Hill is built upon a core set of values that guide us in our relationships with our clients, our interactions with each other, and our connection to the communities in which we serve. These values have a real and lasting impact on the way we conduct our business, the way we treat our clients and colleagues, and the way we go about growing our firm. We believe these values come into play in each and every client experience, and they are essential to the ultimate success of our lawyers and our firm.