Ernesto J. Buitrago, Esq.
Florida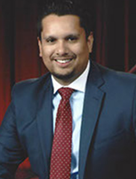 Buitrago Law Firm, P.A
Fifth Third Center
201 E. Kennedy Blvd. | Suite 1270
Tampa, FL 33602
Tel: (813) 999-4799

Email:

ebuitrago@buitragolawfirm.com
Web:

www.buitragolawfirm.com
Ernesto is first and foremost a problem solver. He founded the Buitrago Law Firm, P.A. under the premise that any problem has the capacity to be solved, no matter how great. By listening to clients coupled with his familiarity with legal systems, Ernesto understands how to navigate his clients to advantageous outcomes.
Ernesto is a Corporate Attorney and a proponent of helping businesses remain profitable. By representing small, medium, and large sized businesses, Ernesto provides, guidance, counsel, and representation for businesses who finds themselves in a lawsuit. Through his corporate representation, Ernesto works diligently in negotiating, settling, or litigating the rights of businesses, to ensure that his business clients can continue doing business without worrying about the legal process.
Additionally, as an Immigration Attorney, Ernesto has filed numerous petitions to the Department of Homeland Security to aid his clients in the obtainment of legal status. Ernesto has also been before immigration courts arguing different methods of relief for his clients, for the purposes of keeping them in the United States. Through an aggressive and calm resolve, Ernesto works diligently not only to help clients through the immigration process, but also help their families understand the impact this emotional process involves.
Mr. Buitrago also has a passion for family law. It is his priority to ensure that families obtain proven, competent, and passionate representation when exercising their familial rights and obligations. Regardless of your position, Mr. Buitrago will work hard to ensure your rights are well represented in your case.
The Buitrago Law Firm, P.A. was founded with the belief that businesses are also persons who deserve their day in court. Too many times, individuals are compelled to initiate litigation against businesses simply because businesses have "deeper pockets." The Buitrago Law Firm, P.A. believes that all businesses have a right to protect its legal interests, property, and hard-earned assets.
BLF is a company founded on customer service. Should you become a client, you become part of our family. Every team member of the BLF plays the role of not only furthering your case, but also keeping a line of communication with both the client and his or her family members.
All BLF clients have access to an Attorney any time of the day. Should a question arise regarding business, the BLF consults the client without charging any consultation fee, because the client and the corporation is now part of our family. So, call us today and ask us how we may be able to serve your legal interest.