Joseph J. Basile
Massachusetts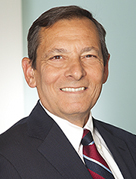 Foley Hoag LLP
155 Seaport Boulevard
Boston, MA
02210-2600
Tel: 617.832.1101

Email:

jbasile@foleyhoag.com
Web:

www.foleyhoag.com
Joe Basile is co-chair of Foley Hoag's Mergers & Acquisitions Practice Group and also serves as co-chair of the firm's Business Department. He provides strategic advice to Boards and C-suite executives, representing clients in their most challenging transactional matters.
Joe's practice focuses on mergers and acquisitions. He has especially deep experience in cross-border transactions, with an extensive body of work that includes mergers, acquisitions divestitures, control and minority investments, joint ventures and strategic alliances involving parties in North America, Europe, Asia and Latin America. Alongside Joe's cross-border practice, he maintains a robust domestic U.S. practice that includes hostile and negotiated public company, private company and distressed M&A transactions.
Joe has served as a Vice Chair of the International M&A and Joint Ventures Committee of the ABA Section of International Law and is an active member of the International Bar Association. He is also the author of numerous articles and a frequent speaker and panelist on M&A, shareholder activism and corporate governance.
Joe has been recognized for his corporate and M&A work by Chambers USA, Legal 500, Best Lawyers in America and IFLR1000, and for his private equity buyouts work by Chambers USA. Chambers notes that Joe "continues to impress with his overwhelming experience in the practice of M&A law." Clients report to Chambers that Joe "knows the law inside out" and is "very conscious of preserving commercial relationships."
Joe is also actively involved in non-profit and civic affairs. He serves as a member of the Executive Committee of the Massachusetts Business Roundtable and as chair of the MBR's Energy Task Force. He has also served as a member of the Board of Trustees of Stonehill College and the Massachusetts State Ethics Commission.
Foley Hoag's team of experienced M&A lawyers provide comprehensive, expert legal and business advice across all industries. We represent buyers and sellers, as well as private equity and other deal sponsors, in transactions of all sizes, and we excel in complex acquisitions and divestitures of technology and life science companies and assets.
Our lawyers tailor our transaction services to suit your needs and objectives, beginning with right-sizing the deal team. We emphasize responsiveness and efficiency in our approach to client service. Every M&A client and transaction is important and receives high quality service and attention, regardless of deal size.
We are skilled deal makers, in part because of our experience advising business clients on a day to day basis. Our clients tell us that we add particular value to the deal because we understand their business, the market in which they compete, and how the transaction fits into their larger business goals – whether it's a bolt-on acquisition by a strategic buyer, a roll-up by a private equity sponsor, a cross-border asset acquisition, or another M&A transaction. This enables us to provide more thoughtful, customized and complete advice on legal terms and conditions, mechanics and structuring.
Our M&A Practice Group includes corporate, tax, and cross-border specialists and, as a full-service law firm, we enlist talent from our other practices – such as intellectual property, ERISA, labor and employment, environmental, immigration and litigation – to help clients achieve positive outcomes in any transaction.
Foley Hoag is committed to helping our clients achieve their desired results by excelling in the time-honored practices of the legal profession and seizing on new ways to continuously improve our performance and service level.
Since 1943, Foley Hoag has represented public and private clients in a wide range of disputes and transactions around the world. We have established a lengthy record of success in industries such as life sciences, health care, technology, energy/renewables, investment management and professional services. We also offer our clients market-leading international litigation and arbitration services, and unmatched counsel in the evolving field of corporate social responsibility.
From our offices in Boston, Washington, D.C., New York, and Paris, we provide creative, strategic legal advice tailored to clients' unique goals. Our powerful regional, national and international practices share a common emphasis on superior client service.
"Joseph Basile is a fine choice of counsel for complex M&A transactions with cross-border elements. He represents an array of public and private clients in sectors such as manufacturing, technology and pharmaceuticals."