R. Scott Van Vooren
Iowa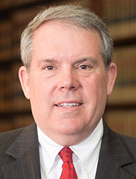 Lane & Waterman LLP
220 N. Main Street
Suite 600
Davenport, IA 52801
Tel: 563-333-6621

Email:

svanvooren@l-wlaw.com
Web:

www.l-wlaw.com/
Scott Van Vooren joined Lane & Waterman in 1983 and focuses primarily on transactional and business matters, including mergers and acquisitions, joint ventures, corporate, limited liability and governance transactions, and general corporate and contractual matters. Prior to law school, Scott worked for KPMG.
Scott has an AV Preeminent® 5.0/5.0 Martindale-Hubbell Rating and is listed in Best Lawyers in America in the fields of mergers & acquisitions law, corporate law and business organization law. Scott is also listed in Chambers and Partners in the areas of Corporate/Mergers & Acquisitions. Scott is also listed in Super Lawyers in the area of Corporate Law. From 2007-2013 and since 2014, he serves as a member of the Business Law Section Council of the Iowa State Bar Association, which reviews proposed legislation affecting various facets of corporate and limited liability company law and provides Continuing Legal Education programs in conjunction with the University of Iowa College of Law. From 2015 until 2019, Scott began serving as the Chair of the Business Law Section Council.
Scott is active in the Quad Cities community, currently serving as Executive Committee Member, Board of Directors Member and Governance Committee Chair of the Quad City Symphony Orchestra Association, as well as Counsel for the Quad City Symphony Trust.
Scott received his B.S.B.A., cum laude, from Creighton University, his J.D. from the University of Iowa College of Law with distinction, and is a member of Beta Alpha Psi. He resides in Davenport.
We help you navigate the legal and regulatory climate that impacts the day-to-day aspects of your operation. We help you plan for the future, protect your assets, and avoid legal disputes. And when potentially adverse legal matters arise, we help you understand your options, develop solid strategies to address the issues, and represent you at every stage of the process.
Our client base is diverse, representing small and large businesses, tech startups and well-established service providers, manufacturing and transportation firms, banks and other strategic lenders, school districts, hospitals, media companies, and municipalities.
In every instance, we have the professional skills to assist your business and guide your decision-making.
Lane & Waterman is a full-service law firm of over 30 active attorneys based in Davenport, Iowa.
Clients who work with Lane & Waterman benefit from the collective knowledge and experience of attorneys who work collaboratively across practice groups. Each client receives the individualized counsel necessary for his or her legal matters and has the opportunity to work with the attorney who can most effectively and efficiently advise and assist the client based on the attorney's area of expertise and the client's needs.
The firm has several major practice areas: Corporate & Transactional Law, Labor & Employment Law, Intellectual Property, Litigation & Appeals, Criminal & Regulatory, and Wealth & Succession Planning.
Lane & Waterman is recognized as a Best Law Firm (Best Law Firms 2019) and Leading Firm (Chambers USA 2019). We are also routinely recognized for our pro bono work, including receiving the Scott County Bar Association's William B. Waterman Volunteer Attorney of the Year Award in May 2016.
"Head of department Scott Van Vooren is highly appreciated by clients for his valuable advice and availability. He is notably active in asset sales and also handles mergers."