Scott E. Pueschel
New Hampshire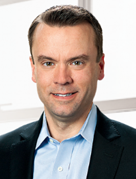 Pierce Atwood LLP
One New Hampshire Ave. #350
Pease International Tradeport
Portsmouth, NH 03801
Tel: (603) 373-2019

Email:

spueschel@pierceatwood.com
Web:

www.pierceatwood.com
Whether working with an emerging company or an established enterprise, an issuer of securities or an investor, Scott Pueschel distills his years of experience in business formations, business combinations and securities offerings into clear advice his clients can use. Scott prides himself on his ability to take a fresh look at a problem or issue while drawing on past experience to arrive at a straightforward and streamlined solution.
Throughout his career, Scott has worked with buyers and sellers, issuers, investors and underwriters in numerous private placements, mergers, acquisitions, divestitures and public offerings. As a result, he understands the unique concerns and perspectives of each of these participants, helping his clients both to plan ahead for these transactions and to understand what motivates their counterparts when these transactions occur. Scott often works as an "outsourced" general counsel to his clients, closely involved as part of their management teams and coordinating the delivery of Pierce Atwood's full spectrum of expertise to them.
Scott joined Pierce Atwood in 2002 after more than eight years with Hale and Dorr LLP (now WilmerHale) in its Boston, MA and Reston, VA offices. Throughout his career, Scott has focused his practice on business formations, angel and venture capital financings, mergers and acquisitions and public offerings. Scott also maintains an active practice advising public companies with respect to SEC reporting and compliance with SEC and national securities exchange rules.
Scott has served in various leadership roles during his tenure at Pierce Atwood, including past service as Chair of Pierce Atwood's Business Practice Group and as a member of the firm's Management Committee.
Pierce Atwood's Business Group counsels enterprises large and small on both their daily business needs and most crucial business transactions. Known for our core strengths in serving middle-market companies, we assist clients of every size, from NYSE-listed companies to the proverbial entrepreneurs in a garage. Our clients are involved in industries as diverse as life sciences, medical devices, software, telecommunications, footwear and apparel, banking and financial services, renewable energy, petroleum products distribution and forestry products.
Our Business Group seeks to be an integral part of our clients' management teams, intimately familiar with their business goals and imperatives, while coordinating the delivery of relevant expertise from the firm's other practice groups. Nimble and responsive, we focus on strategies that drive value for clients. Whether the matter involves the purchase or sale of a business, an offering of securities to finance growth, a strategic investment or a contract with an important new customer, we provide insightful leadership and timely, practical advice to get the deal done.
Pierce Atwood LLP is a highly regarded full service law firm based in New England, recognized nationally and internationally for its expertise in complex and class action litigation, energy production and distribution, mid-market mergers and acquisitions, information security and technology, commercial real estate development, and complex construction projects. Pierce Atwood provides legal and business counsel to its clients, which range from regional and local enterprises, utilities, financiers, middle-market companies, entrepreneurs, and individuals, to Fortune 500 companies, multinational corporations, and state and foreign governments. Clients derive superior value based on the firm's efficient and cost-effective service structure coupled with its high level of sophistication, responsiveness, and industry expertise.
"Scott Pueschel is "very well respected in the M&A and securities area" and "a facilitator in all instances" who "knows how to get deals done." Clients value that "his advice is always practical, he is very accessible and responsive, and he is an efficient lawyer." Pueschel focuses his practice on emerging companies, venture capital transactions, M&A and securities."