Steven H. Levin
New York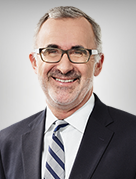 Davies Ward Phillips & Vineberg LLP
900 Third Avenue
New York, NY 10022
United States
Tel: 212.588.5555

Email:

slevin@dwpv.com
Web:

www.dwpv.com
Steve Levin is a Partner in the New York office of Davies Ward Phillips & Vineberg LLP.
Steve counsels clients on mergers and acquisitions, commercial real estate transactions and general corporate matters. He offers clients business-minded advice on their international mergers and acquisitions transactions, investments in the U.S. and joint ventures. Steve develops close personal relationships with his clients – a result of his caring, thoughtful manner. Over his 35-year career, Steve's excellent legal skills, ability to craft innovative solutions and to make deals happen have earned the trust of a broad range of clients.
Education
American University Washington College of Law, JD (Cum Laude), 1978
Carnegie-Mellon University, AB, 1975
Working closely with our corporate and entrepreneurial clients over time on their business issues significantly strengthens the advice we can give them – especially when transformational events unfold. Understanding your business and helping you build its infrastructure is what we do.
We provide comprehensive advice and formulate specific plans across a full range of general corporate and securities issues. From choosing the right business model to negotiating a strategic partnership or major contract, we work with you to create a sound foundation for any future strategic move.
When you need advice on important governance or high-stakes situations, we draw on our expertise across practices to shape the best plan. And we leverage our strong relations with government and regulatory agencies, as well as other leading law firms, to extend our reach and help ensure a successful outcome.
Davies is a leading Canadian business law firm focused on high-stakes matters. Tackling our clients' issues with clarity and speed, we are consistently at the heart of their most complex deals and cases.
With offices in Toronto, Montréal and New York, the firm's capabilities extend across borders. Our lawyers are internationally recognized for their technical rigour and ability to create solutions for our clients that simply work. Considered a top-tier firm in each of our core practice areas, we represent a wide range of organizations across industries in North America and abroad.
We work in a fundamentally different way, starting with the structure of our firm and ending with the results we achieve for our clients. We are a true partnership. This frees us to work seamlessly and efficiently together, across geographies, practices and industries. Most importantly, it allows us to take on your matters – however large or complex – with unparalleled clarity, speed and intelligence.